This article will show you how HungryHungry complies with RSA regulations
Selling Alcohol Online through HungryHungry is a great way to increase revenue.
Of course the usual restrictions apply with your venue Liquor License and RSA (Responsible Service of Alcohol) regulations.
Adding your Liquor License Number to an online store
Your Customer Onboarder would have requested this information at the beginning of onboarding process. It is important we attach your liquor license number to any online store that is selling alcohol to be in line with RSA regulations. If for some reason this information was not provided to us. You can navigate to Change Store Setup > Store Info > Select your location > Advanced and enter this in yourself.
Fill in/check your Liquor License number is correct before proceeding to sell alcohol.

Toggle the necessary Items as Containing Alcohol
Navigate to Change Menu Items > Items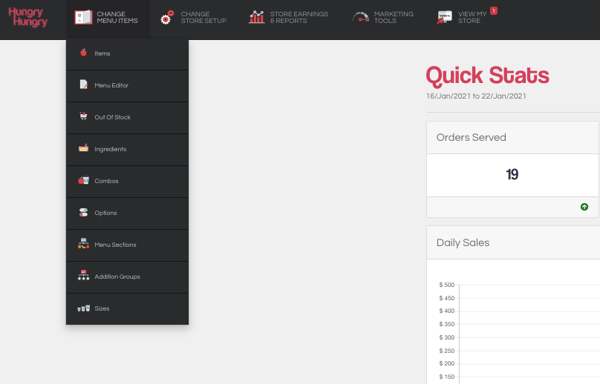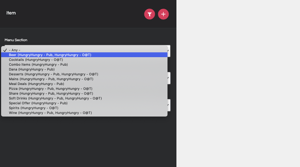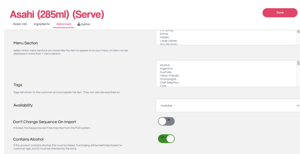 Use the pink filter on the side to select your Menu Section containing the Alcoholic Item and Select your item.

Under the Advanced Tab. Scroll down and tick the Contains Alcohol toggle and hit SAVE.
If products contain alcohol, the following must be ticked. Purchasing will be restricted based on customer age, and ID must be checked by the store.
All items containing Alcohol MUST be tagged as such. see our help article about tags here...
A customer is not entitled to a refund if they are under 18 or cannot provide ID. They agreed & stated they are over 18 years old when entering their date of birth in the Age Gate.
The Experience for your customer


Your customers will be met with an 'Age Gate' if they want to purchase alcohol. This will appear when they click Process Payment in the checkout and an item with the containing alcohol toggle is located in their cart. See the full experience below;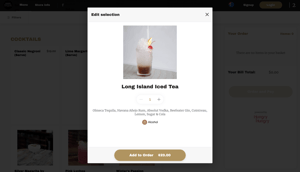 Customer Chooses their Drink of choice and adds this to their to cart.


After filling in their payment details and selecting Process Payment, an age gate will pop up and request the customer to confirm their date of birth

If a customer 'exits' out of the age gate a warning will appear and not allow them to continue without filling in the age gate.


Upon delivery of the order, it is at the discretion of the server to ask for ID if in doubt of the legitimacy of the customer's age. It is important to confirm that the customer is over 18years of age before handing over the beverage, in accordance with RSA regulations.
Please Remember:
A helpful reminder is: To 'Challenge 25' which is a strategy that encourages anyone serving alcohol to 'challenge' anyone who looks under 25 to show appropriate ID when serving.
Australia only allows the following identification as legally accepted proof-of-age in licensed premises: current Australian driver license or learners permit, current passport (Australian or Foreign), a government issues proof-of-age card, and in some states Gov.ID App.
Customers are NOT entitled to a refund if they are under 18. As they agreed & stated they are over 18 years old when entering their date of birth in the Age Gate.