Showcase your brand
The store bio is an eye-catching, animated tile that appears at the top of your menu page. This is a great way to advertise your special deal and overall menu offering!
Here is how you can set it up:
Changing, Adding or Editing your store bio
Let's first look at where to find your store BIO.
Let's Log into the backend of your HungryHungry, then go into Marketing Tools, your Store Bio/s will be at the bottom of this list.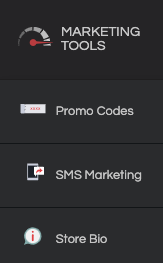 You can edit ALL your existing Store Bios as well as create NEW Store Bios.



Each Store Bio will be listed HERE
You can have multiple Store Bios for ONE location with ONE enabled (On the site visible to customers) and others disabled
The Store Bio wizard is easy to follow, it's a step by step guide with the layout examples on the lefthand side. As shown below: