Summary
When offering delivery as a fulfilment type, it's important to setup the area that you will be delivering to. Only customers located within these suburbs/zone will be able to place an order for delivery.
There are 2 options for delivery areas:
- Delivery ZONE
- Delivery SUBURBS / POST CODES
To set-up your deliver suburbs and zones, login to and hover to "CHANGE STORE SETUP". From the drop down choose "STORE INFO".

Select the store location on the left and finally click the "Delivery/Pickup" Tab. Under the "Delivery/Pickup" click the DELIVERY button.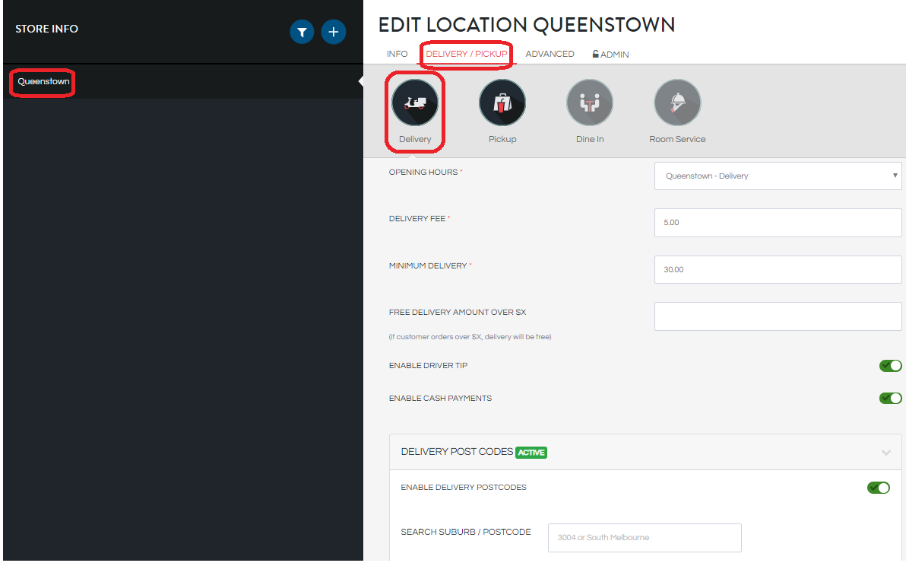 There is a drop down arrow beside the DELIVERY POST CODE tab. Click on the drop down and tick the ENABLE DELIVERY POSTCODE box to add allowed suburbs to your delivery fulfillment type.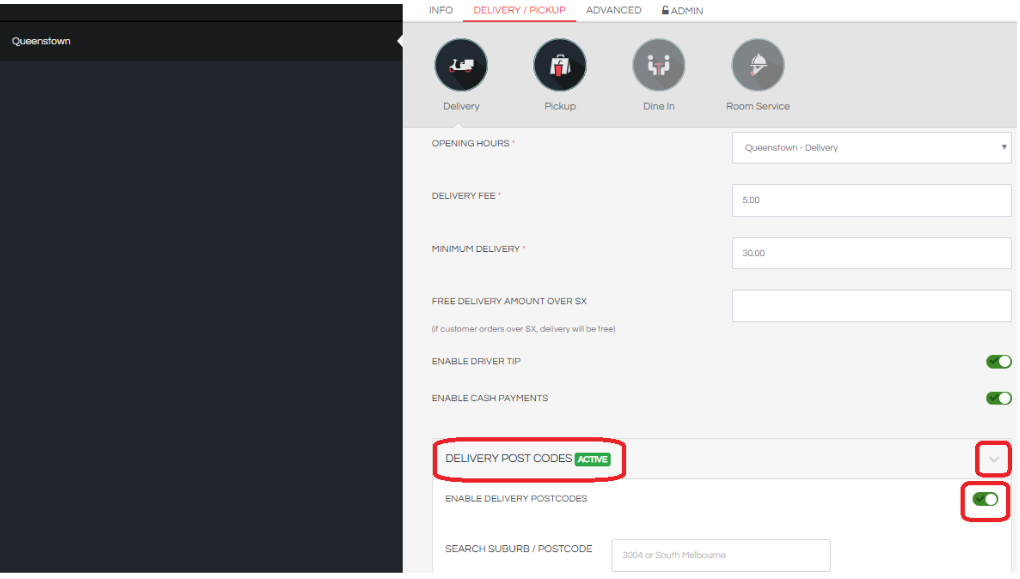 Enter a suburb into the SEARCH SUBURB/POSTCODE text box and select the desired suburb from the drop-down box that appears. After adding at least one suburb for delivery, you will be shown a list of nearby suburbs that you may select as well.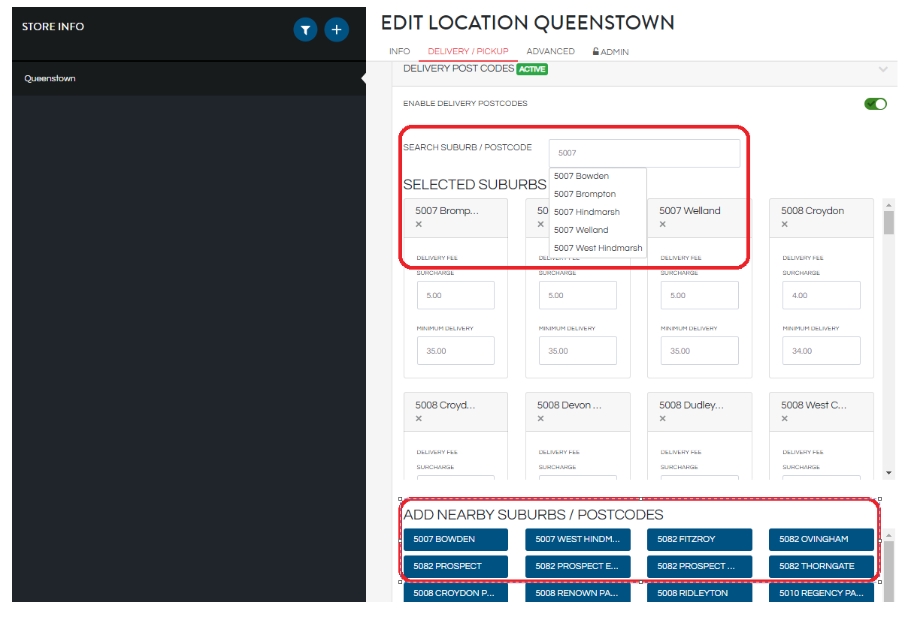 When you're done, click the "Save" button.
(Note for NZ merchants: Postcodes and Suburb name should be both entered, as there is no drop-down will appear)
Delivery Zones
If you wish to be specific in which area you are delivering to, log into your HungryHungry Admin Portal at . Hover on "CHANGE STORE SETUP" menu and a submenu will show.
Click on "Store Info" menu

a. Creating a new location (optional)
Click on the plus sign button from the sidebar and you will be redirected to "Create New Location" form


b. Editing the existing location=
Select any location you want to edit from the sidebar and click the DELIVERY/PICKUP tab.

Click on "DELIVERY" button
Click on "Delivery Zones" tab and tick the button to ENABLE DELIVERY ZONES

Google Map will show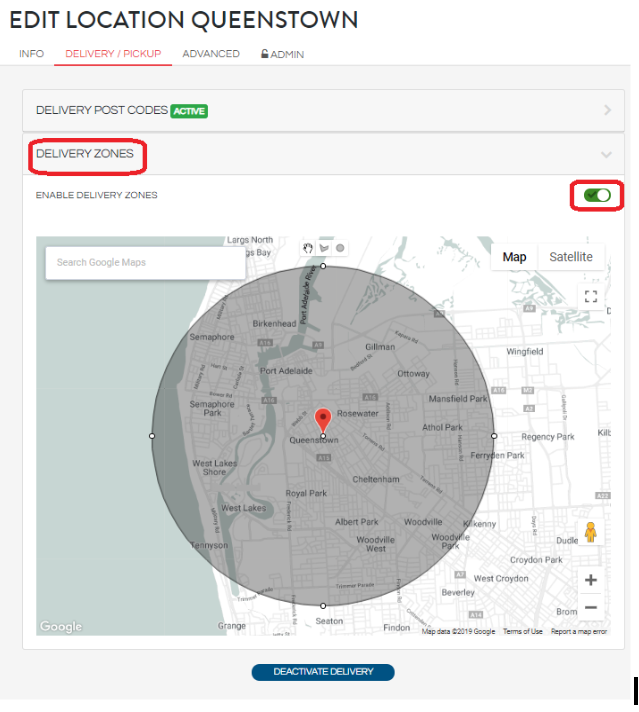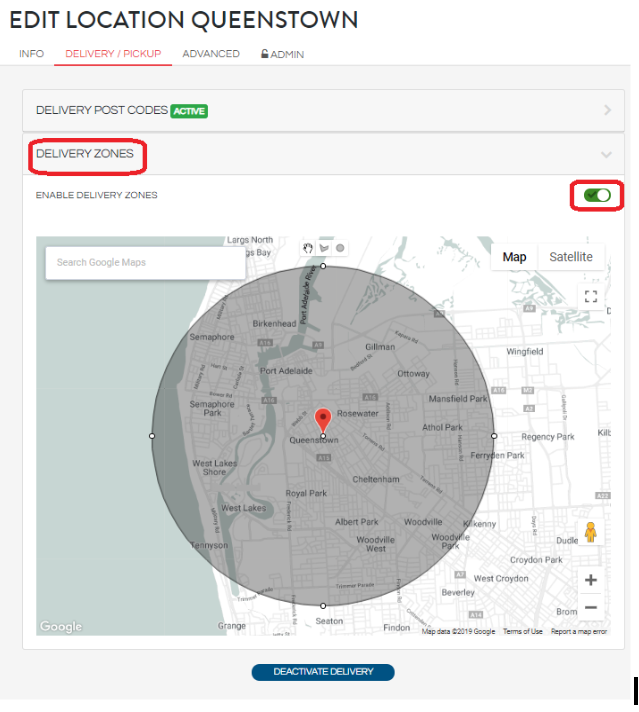 4. Polygons
a. CREATING A POLYGON
1. You can search for a specific location just by dragging the map or you can search a specific address
Dragging the map
Move the map by clicking on it with the mouse and dragging it anywhere.
Seaarching a specific address
Click on the search bar on the top left side of the map

Type the address of the location you want to search. This will show address predictions as you continue to fill it out.

You may select from one of the address predictions or just press "Enter" key to continue.

Google Map will try to find and show the location you searched
2. After choosing a location, you may now start drawing a polygon
Click on

icon from the toolbar in the top center of the map

Click anywhere on the map to start drawing a polygon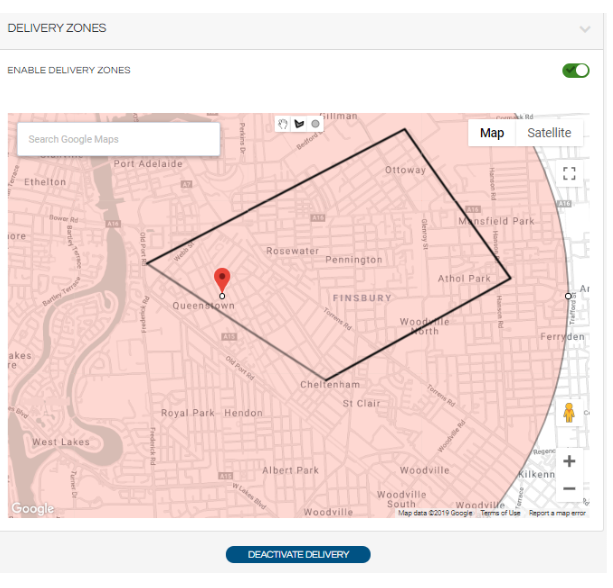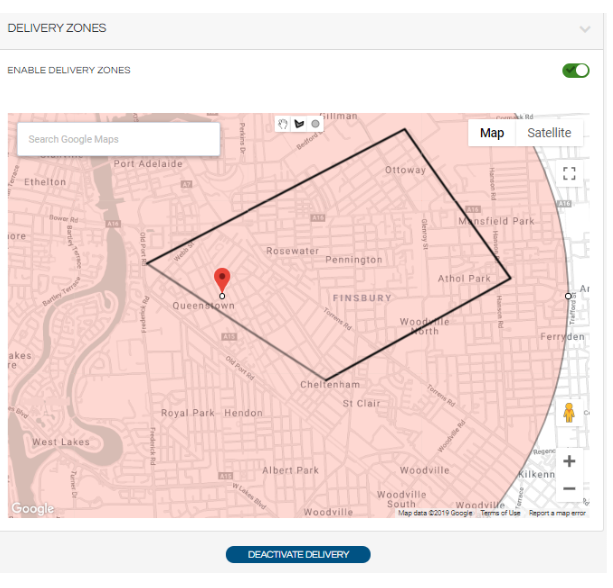 3. Once you're done drawing a polygon or once you click on the first vertex, a popup will show containing the fields for each polygon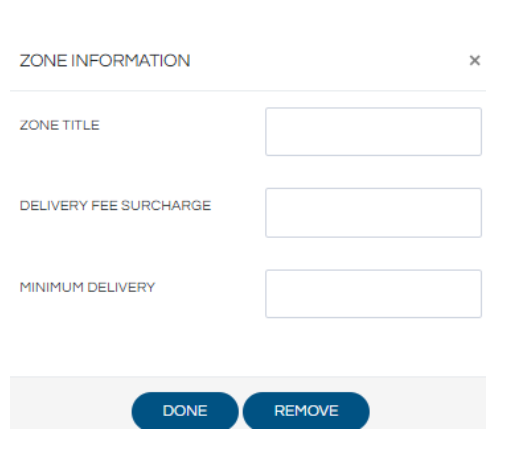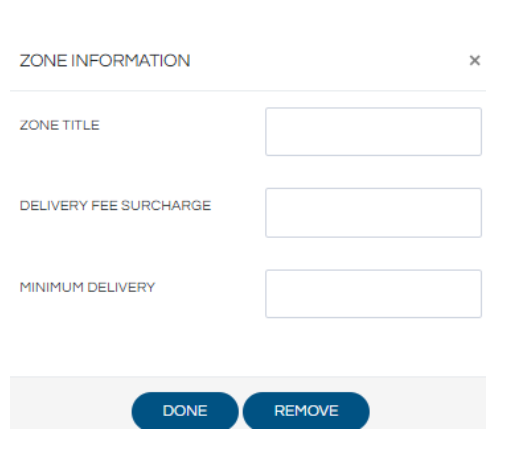 ZONE TITLE

This will show once you hover through the polygon

DELIVERY FEE SURCHARGE

This is the fee added to the delivery fee set in "Fulfillment" tab when a customer's address is outside the polygon

MINIMUM DELIVERY

The minimum total of order before a customer can be able to checkout
4. Click "SAVE" button inside the modal to save information of the polygon
B. EDITING A POLYGON
Choose a polygon you wish to edit

Click any of the vertices of the polygon (dots with full opacity) and drag it to adjust to your desired size

If you want to edit the information, click on

icon from the toolbar in the top center of the map and click the polygon and a modal will show

Edit information to your preferences

Click "SAVE" button inside the modal to save information of the polygon

C. DELETING A POLYGON
Click on

icon from the toolbar in the top center of the map and a modal will show

Click on "REMOVE" button and the polygon will be removed from the map