Often it is necessary to refund a payment to a HungryHungry customer after they have placed an order on your HungryHungry ordering platform. This is usually because the order could not be provided by your venue. This can be managed through the backend of HungryHungry.
Refunding an Order
Step 1 - Login to your HungryHungry Account
If you do have access to your HungryHungry back end, please contact us.
Step 2 - Navigate to 'Store Earnings & Reports' and click 'Sales and Refunds'

Step 3 - A list of orders placed will be visible. Search for the desired order and click "Refund"
Step 4- The selected order details will be shown. To make only a part refund change the total to refund amount. Once confirmed, select the 'Submit' icon, which will finalise the refund and the customer will be refunded using the same payment method for the original order.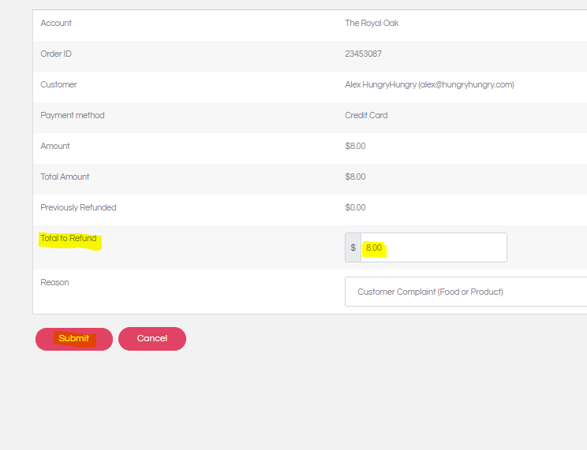 Step 5 - Once a refund has been processed, the 'Payment Status' of the orders will be shown as 'Refunded'.
Frequently Asked Questions
How long does a refund take?
Refunds are processed back to the original payment method. If this is PayPal - the refunds generally happen instantly. If the customer paid via Credit Card, ApplePay, or Google Pay this depends on the card used and their banking institution, it could take up to a couple of days.
Why isn't this order is not refunding?
Sometimes you may get an error message and it will not allow you to process the refund. Most of the time this is due to the funds not yet settling from the customer's bank account into our payment gateway. Generally, refunds can be processed immediately(before the funds settle) or after they have settled. We recommend waiting for a few hours and trying again. If you still cannot process your refund please log a support ticket.