Using the Orders Report to easily manage upcoming Delivery and Collection orders for the week ahead.
To navigate to the Orders Report, go to Store Earnings and Reports in your HungryHungry backend.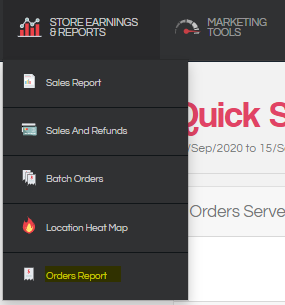 In the Orders Report, you can gather a list of all the orders due on a particular day or set of days by using the filters below. You can select which Context you are after and if you run multiple locations from one backend, you can choose the store here also.

Once your desired filters are filled in. Click apply to list your due orders. There will then be a option to get a Summary of these orders which lists each item individually and the amount due on that day. This is located just below the date filter.

To export this information and make it suitable for printing. Please watch the video below.