Set up an SMS Marketing Campaign with your first 200 SMS messages for free to ensure your customers' bellies are filled throughout this snap lockdown.
HOW TO CLAIM YOUR 200 FREE SMS MESSAGES*:
Go to our ChatBox, 'Crumpet' in the bottom right-hand corner'
Select 'Help me set up an SMS Marketing Campaign'.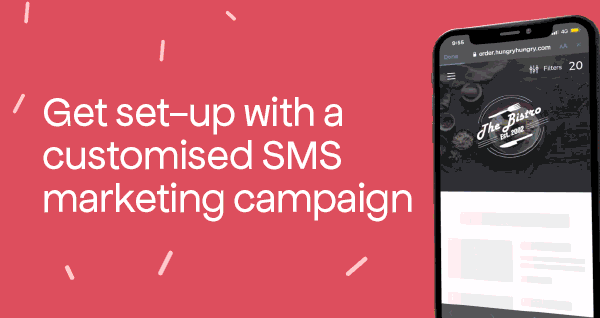 Whether you want to reach out to past HungryHungry customers or import your own list of mobile phone numbers from existing customers - we can help you design and send promo codes, offers and information straight to the customer!
PROMO IDEAS THAT CUSTOMERS LOVE:
20% off your order

Spend $50 get a free item

Buy one get one free

Free delivery


* T&Cs may apply. Please speak to our Customer Care team through ChatBox to learn more.