Summary
In HungryHungry, it's easy to create a promo code that you can give to your customers to access special discounts when ordering. Promo codes can be setup with various restrictions so that you have control over how and when they are used.
Creating a Promo Code
In order to create a promo code, you'll need to log into your HungryHungry Admin Portal at http://admin.ordermate.online.
From the menu bar, select "Change Store Setup" and then "Promo Codes".
On the left, you will see a list of any existing promo codes (to edit an existing promo code, simply select it).
To add a new promo code click the "Create New Promo Code" button.
Enter a title for the promo. The title will only be visible to you, not the customer, so give it a meaningful title.
Enter a description. This will be visible to your customer in the checkout, so be sure to give your promo a "customer friendly" description.
Enter a promo code. This needs to be a unique combination of letters and numbers that the customer will need to enter in the checkout to receive the discount.
Select the type of Discount:

Percentage discount
Dollar amount discount
Free item discount



a) Percentage discount & b) Dollar amount discount - Enter the desired discount, this will reduce the entire order total by the desired percentage/amount.
c) Free item discount - Choose from the list the item that you would like to be offered as free. You can also set the number of items to be offered as free. (eg. Get 2 free drinks with any order over $50)






The other discount option is Free Delivery. Select this checkbox and any delivery fee will be removed from the order.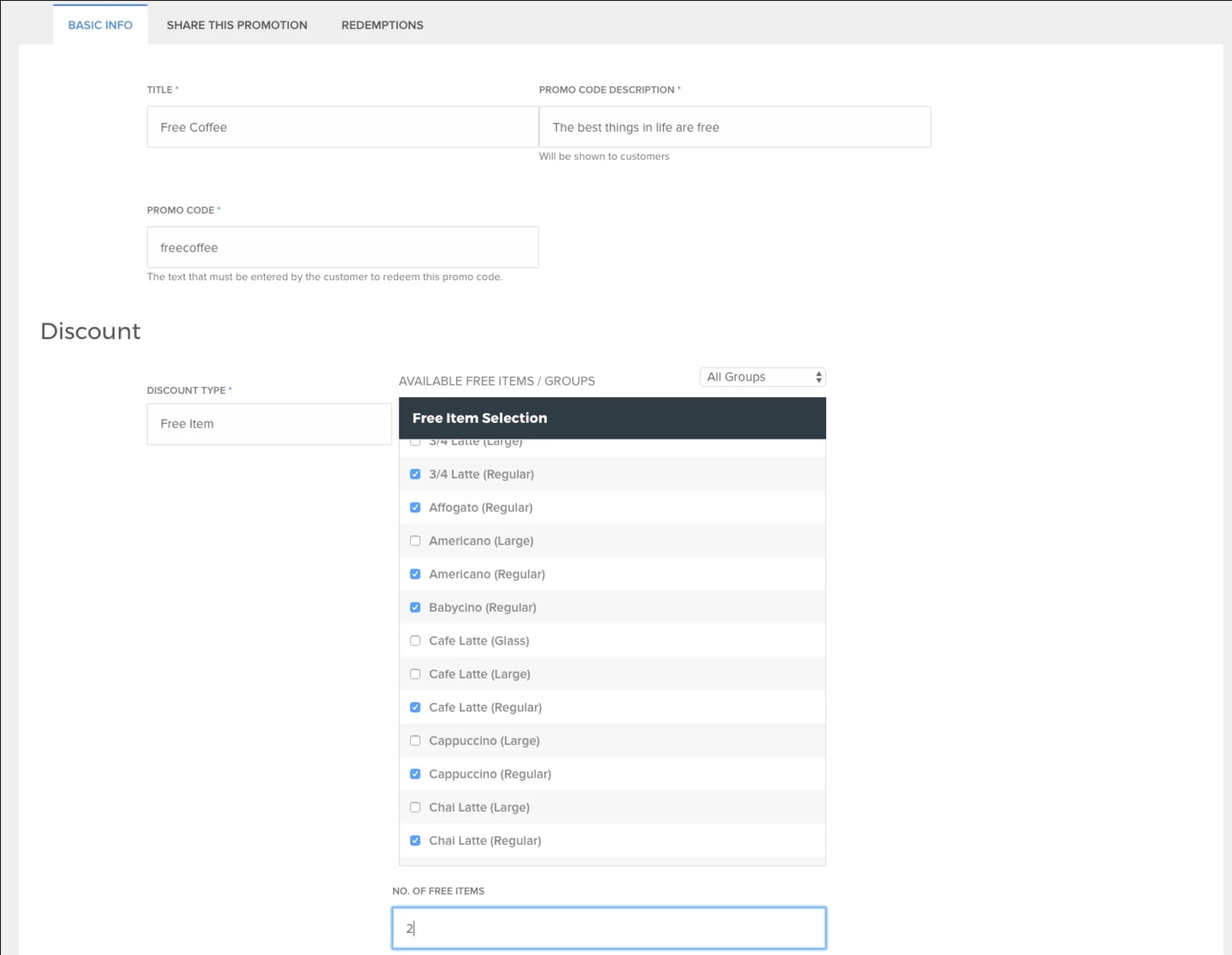 RULES - These are conditions that need to be met so the Discount can be applied.
Required: Set the start and end date that you would like for your promo code.
Enter additional rules for the promo code like minimum order and the number of allowed redemptions per user (optional).

If you would like your promo code to be available for all fulfilment types (delivery, pickup, dine-in etc...), select "Enabled for all Fulfillments/Locations".
You can add a terms and condition statement by ticking on the show terms and condition checkbox and adding in values in the input box.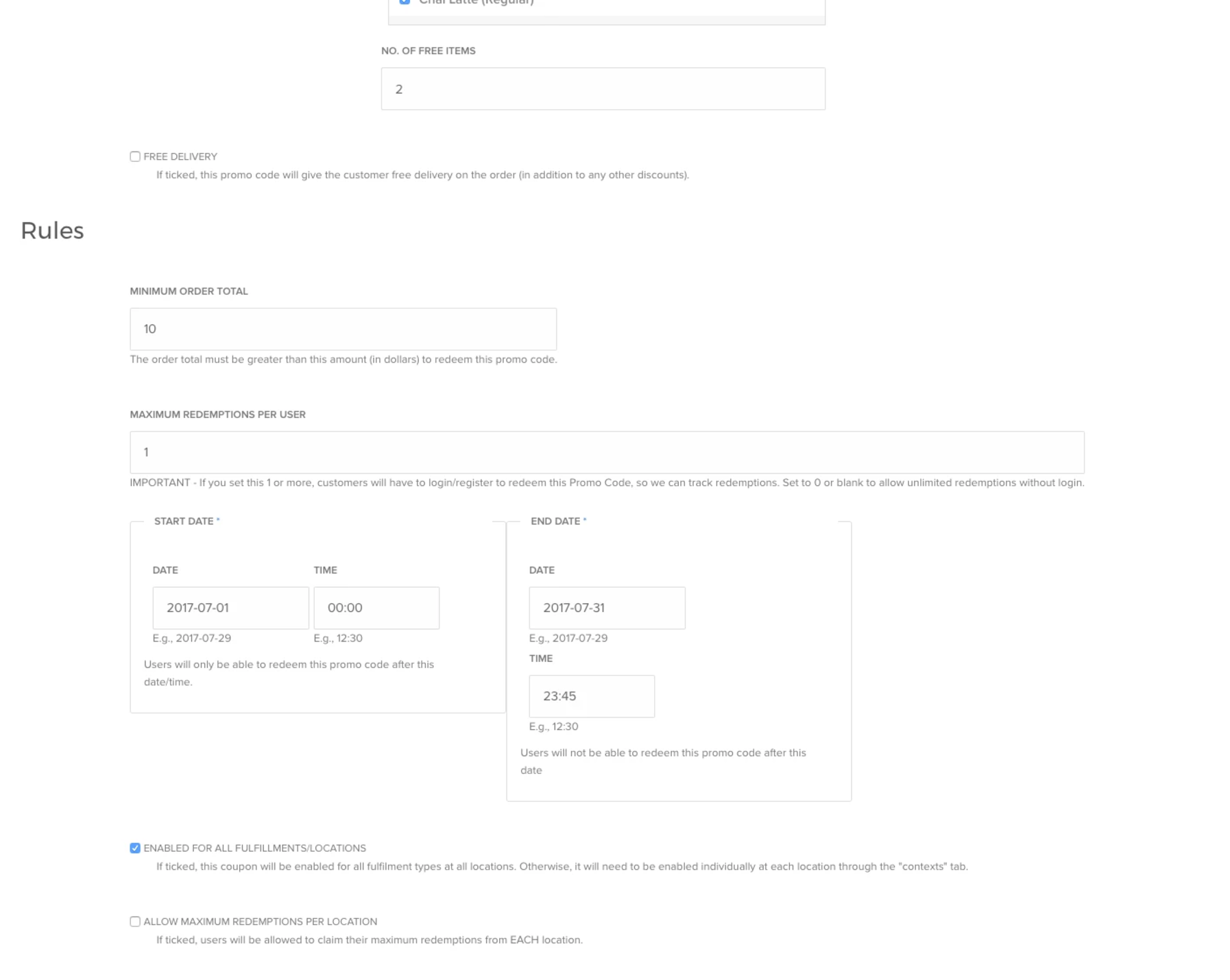 Terms & Conditions will show on the site:
- when they add it to the basket in the Checkout
- if the promo is sent via a link - it will show when the page loads up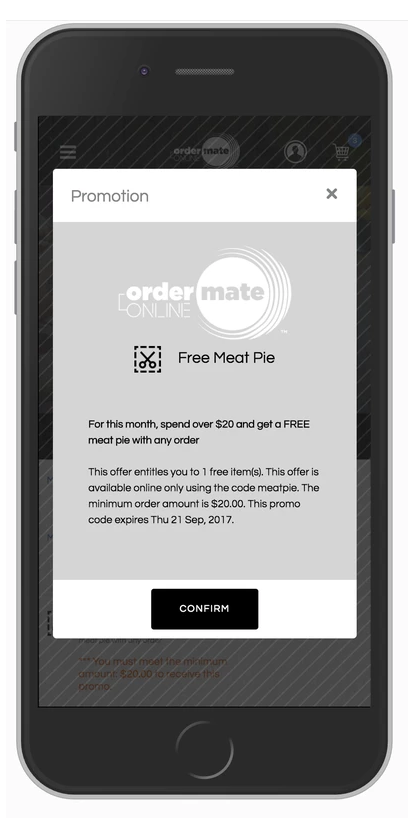 For Mult-Location Venues: If you would like your customers to be able to use their maximum number of redemptions per location, select "Allow Maximum Redemptions per Location".
For example: If you have your maximum redemptions per user set to 1, each customer will only be able to use your promo code once. If you were to then select "Allow Maximum Redemptions per Location", each customer will be able to use the promo code once per location.